Remote operation is a relatively new term in the aquaculture industry. As volumes per operating unit have increased, the need to be able to maintain continuous oversight of production has increased accordingly. This can range from short-term local requirements in the event of reductions in staffing over weekends and holidays to being able to feed all day when the weather does not permit travel to the facility. It can also extend to the centralization of operations and the creation of a professional environment with groups of farmers gathered together at customized work stations, with each individual holding responsibility for several facilities.
ScaleAQ began to offer remote operating solutions alongside its camera systems during the early 2000s. Over the years, we have gained extensive experience of a variety of technologies, and we are now able to offer some of the best, most comprehensive remote operation solutions currently available on the market. ScaleAQ offers everything from easy remote control of feeding and cameras from the pen and workboat, to full regional feeding centers and comprehensive operational framework agreements.
Centralization
The aquaculture industry is growing, and effective feeding is a key success factor. By centralizing operations, it is possible to establish active working groups through observation and discussion with colleagues. This can enhance the collective understanding of fish behavior and well-being in a range of conditions.
Monitoring of feeding barge technology
We are also able to provide remote monitoring of all feeding barge technology so that alarms and sensors provide an improved overview of the site to technical personnel or farmers. This can encompass anything from weather sensors, gradient sensors, liquid levels, temperature and light control, etc.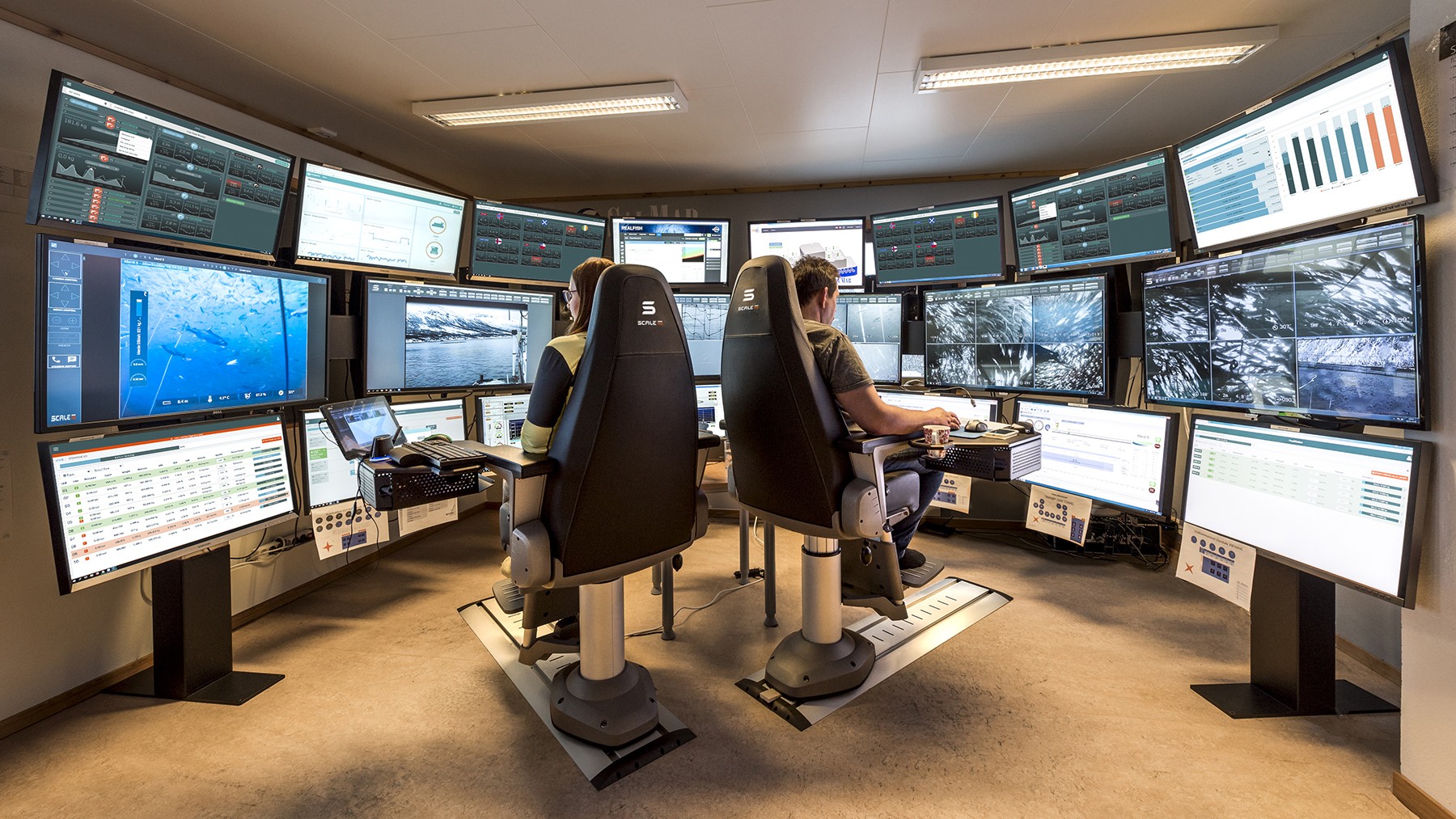 Uptime
Remotely operated feeding requires high levels of uptime in order to ensure access and control is possible at all times. Our fully operated solutions are based on proven equipment that can handle physical stresses such as salt and wind over time. Our support teams are standing by to carry out corrective measures in the event that anything happens on the network. In order to ensure access in the event of major outages, we also offer a "back door" solution that means it is possible to administer equipment on the barge even when there is operational disruption on the main network.
Safety monitoring
In exposed locations, it can be reassuring to have safety monitoring in place so that you can – with consent – track scheduled activities and implement any necessary action in the event of accidents. This form of monitoring is also a useful tool – especially in the summer – for documenting visits by unauthorized persons during periods when the facility is not staffed.